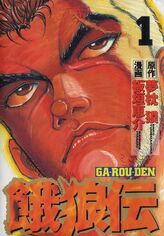 Garouden Wiki is an encyclopedia for everything related to the Garouden, that anyone can edit!

Garouden (餓狼伝, Garōden) is a series of Japanese martial arts novels by Baku Yumemakura. They have been adapted as a feature film, a manga by Keisuke Itagaki (of Baki the Grappler fame), and two video games. Main protagonist of this series is Bunshichi Tanba.

There are 135 articles and growing since this wiki was founded in April 2014.
Fighting expert Bunshichi Tanba enjoys defeating TV fighting champions and celebrities on the street until he stumbles into the underground wrestling club known as FAW (Federation of Amateur Wrestling). Unfortunately, there he's defeated by a wrestling world underdog and forces himself to improve before seeks his rematch.
Years later he returns better than ever and his fights attract the attention of the two "monsters" of the fighting world that are constantly in competition with each other, Great Tatsumi, owner of the FAW and with a power and charisma unrivaled in the ring, and "the demon of karate" Shouzan Matsuo, owner of the best Karate schools in Japan and with a power and speed that's almost godlike.